Organist at the Berliner Dom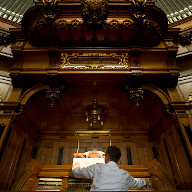 Andreas Sieling has been familiar with the Great Sauer Organ of the Berliner Dom since 1992 (even before its reopening). Since 2005 he has been permanently employed at the Berliner Dom as cathedral organist. Thus he is responsible for the musical arrangement of daily devotions, cathedral vespers, services and Evensongs as well as the planning and performance of organ concerts.
In addition, he conducts the Berliner Dom brass players.
The International Organ Summer at the Berliner Dom, which takes place annually on Fridays in July and August, is the responsibility of Andreas Sieling. In March 2017, he started a performance series with the organ works of Johann Sebastian Bach. You can see all performances in the current Calendar.